Chandra Taal, Himachal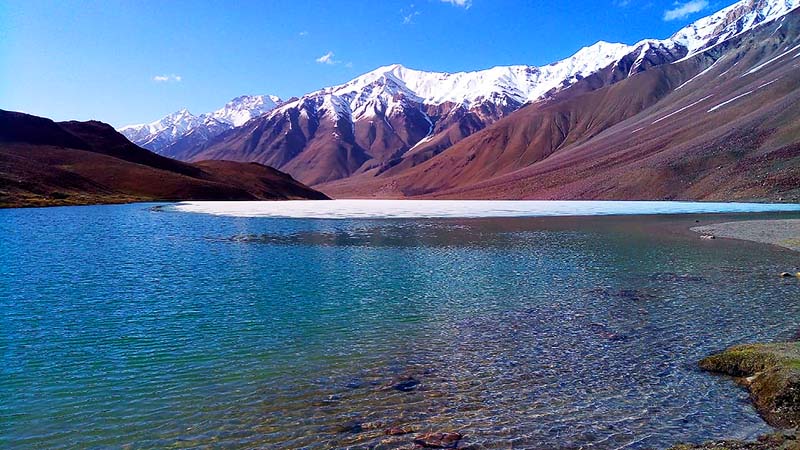 Chandratal or Chandra Tal or Chandra Taal or Chander Taal or simply Moon Lake is a barren but beautiful lake located at a height of 14100 feet in Himachal Pradesh in northern India. It comes under Spiti and Lahaul district of Himachal Pradesh and is situated at a distance of six km from Kumzum Pass.
The lake got its name because of its crescent shape. It is believed, Chandratal was discovered by traders
 who came to the region from Tibet or Ladakh. After an arduous journey, the traders used to rest near the lake before resuming their journey to Kullu or Spiti.
The sweet water lake is around 2.5 km wide. It is the source of Chandra River which merges with Bhaga River to form Chandrabhaga River and later assumes the identity of Chenab.
The lake can be visited only during the three summer months. For the rest of the season, the lake remains cut off and frozen.
The lake is normally blue but changes colour with the colour of the sky. Chandra Bhaga mountain range (CB Group) forms the perfect backdrop for the lake.
Though the place is barren and bereft of any human settlement, it is a famous camping site during summer. Travelers often get awestruck by the blue colour of the lake, bordered by wide carpet of green grass coupled with the pristine white of Chandra Bhaga mountain range.
According to Hindu mythology, Chandratal is the place where Indra, the King of Gods, came down on his chariot to transport Yudhishthira, eldest of the five Pandavas, in his mortal form to Swarga (heaven). Locals believe that fairies visit the lake at night.
Options to stay are also limited in Chandratal. PWD guesthouses and rooms let out on rent by villagers at Kunzum Pass and Batal are the main options to stay. In summer, majority of the tourists prefer to stay in stay in camp at Chandratal.
Options to eat are limited in Chandratal. There are some dhabas at Batal and Kunzum Pass which offer food. The eateries in Chandratal offer mainly Tibetan and limited Indian food. Don't expect any exotic cuisine.
Best Time to Visit
The best time to visit Chandratal is from June end to September end.