Pong Dam Lake, Himachal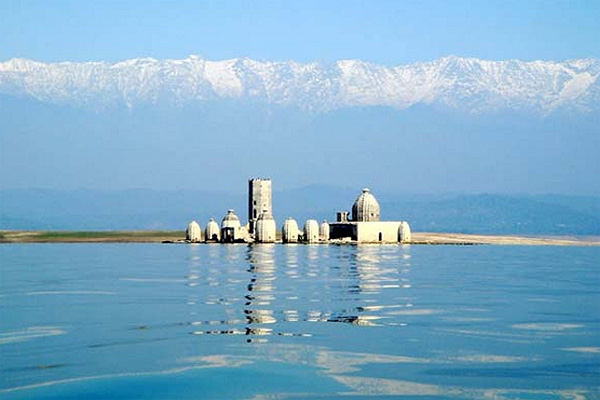 Located among the picturesque snow-clad mountains of the Himalayas, Pong Dam Lake AKA Maharana Pratap Sagar Sanctuary is a lake sanctuary in the Kangra district of Himachal Pradesh. Spread across 450 sq km, the sanctuary is locally known as Pong Dam and is located about 60 km southwest of Dharamsala.
Named in honour of Maharana Pratap, a Hindu Rajput ruler of Mewar, the sanctuary is located at an elevation of 1,476 ft above mean sea level. The sanctuary is popular mainly for the birds like surkhabs, plovers, terns, red necked grebes, water fowl egrets, ducks and lack-headed gulls among others.
Thousands of migratory ducks from Siberia can be seen in the swamp regions between Pong Dam and Shah Nagar barrage and other shallow regions of the lake. The best time to see the vibrant congregation of the visiting birds is between November and March.
Alpine forests and snow covered mountains form picturesque backdrops for the sanctuary. The mesmerizing panoramic view of the Dhauladhar Ranges and the Kangra Valley makes it a good place to click photographs.
The two km long dam on the Beas River is the highest dam in the country. The dam was built in 1975 and has become one of the most popular tourist attractions in Kangra district. The sanctuary grew around the Maharana Pratap Sagar and was declared a wildlife sanctuary in 1983.
The region is a paradise for fauna and flora. The sanctuary is home to barking deer, wild boars, leopards, cheetals, black buck and 27 varieties of fishes can be spotted in the lake.
There are great opportunities to go trekking on many popular trekking trails that have varying degrees of difficulty due to the terrain. There are many options for water sports like swimming, rowing, sailing, water skiing and canoeing. The abundant fish population in the lake makes it a good place for angling too.
The Ransar Island located in the Maharana Pratap Lake should be visited for its rich Himalayan flora and fauna. The main population of the black bucks and cheetals can be seen on the Ransar Island. Other attractions near the sanctuary are the Masroor rock-cut temples and the Haripur Fort.
BEST TIME TO VISIT
The best time to visit Maharana Pratap Sagar sanctuary is between September and June.